A coffee place for Calgary.
That also happens to serve delicious, healthy take-out.
We're big fans of Live YYC. Have you been? Check them out here. They offer amazing yoga, HIIT, spin and barre classes to suit your fitness fancy. To stay fit, however, you need the right fuel and that's what we're here for. We wanted to make living right and eating right that much easier for the patrons of Live YYC, for the East Village community, and for Calgarians in general. When it comes to staying healthy, fitness is half the battle. So whether you're into sweating your buns off or you just like to eat right. We offer fast, healthy and delicious take out food for those just off a spin bike, a downward dog or the sidewalk.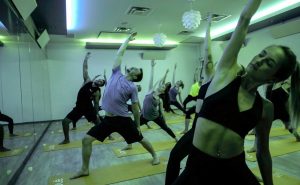 We should also mention that we are coffee lovers. We love it everyday. Mostly, we love a good local coffee shop, no matter where in the world we visit, we find ourselves in coffee shops where sipping your hot quality coffee is ritual.  We love cafes where feeding people, in the casual way that suits the busy lifestyle is it's own culinary style. And most importantly, where friends, and strangers alike – yogis and yawning cubicle rats – meet, chat, read, sip, snack or simply to sit.
ASAP coffee is a testament to our love of the classic cafe, conveniently located in our favorite yoga and fitness studio. (Don't worry you don't have to exercise for your coffee, but we do think you should try out a class). We're excited to share this love with Calgary's downtown and East Village.
We offer convenience, without compromising on quality, and quality without compromising on indulgence.
Fast, healthy breakfast and lunch, quality coffee, uncompromising service, that's our promise.
Calgary's East Village rules. Live YYC rules.
Calgary has invested in the East Village and we're so excited to be a part of this new and exciting neighbourhood. We're also so excited to be partnered up with Live YYC. We think Live is the perfect location for getting fit and this quality coffee shop is the perfect fuel for your life. We want to make sure the residents of East Village are never wanting for healthy, fast, and delicious food. We've got tasty snacks you can feel good about eating again and again, unique teas and matcha drinks – did you forget great coffee?!
Keepin' it simple. Sweat everyday, eat right.

Inspired by the cali, paleo, keto, raw, GF, vegan and local diet crazes… just kidding. We just like good food. By that, we mean food you can feel good about.

We love food that energizes, quality you can taste and ingredients you can pronounce.
Yes, we cater to diets, but really we're about good livin' – that's it. Check our our delicious menu.
The Coffee makes the Shop.

We're not trying to make the world better, we're just trying to make your lives better. Really, ASAP Coffee wants to make your day better, everyday. Especially when you're fresh from a spin bike.
Meet us for your daily coffee... it's okay, we're hooked too.
We're so excited to be the first in Calgary to offer the renowned (on the west coast) coffee roasters:  Bows and Arrows. Bows & Arrows is a small family and friend run, local shop in Victoria, BC. Like us, they're a collection of stray coffee professionals taking a run at making something good while everyday making something fantastic – striving to offer the perfect coffee. Tricky as that is in a crazy industry with a million options, we think they're doing a pretty great job and we're happy to offer our friends and family what we think is an exemplary product. We feel good calling ourselves a quality coffee shop worthy of downtown Calgary with Bows and Arrows on our team.
This is the coffee place where miracle mornings happen.
Breakfast? At ASAP coffee shop, we've got you covered. We have on-the-go, delicious options that your inner-LA-instagram-celebrity and your Canada-Goose-gotta-run self can both feel good about. Introducing Acai bowls to Calgary is like trying to explain kombucha to your grandpa. Just try it. It's a fruit, it's delicious, it's healthy, and it'll be your new favorite morning fuel. Add some yogurt, nuts, seeds, granola, banana, whatever….You'll dig it, we promise.
A downtown lunch spot, a post-workout-fuel-stop,  if you will…
Lunch or dinner, grab one for the road, or get in touch with your inner Antoni Porowski* and design your own. Fresh, tasty, real ingredients to fuel you on the go. Get spicy with a thai inspired salad, or maybe a you're feeling mediterranean – Take both, you Gemini! We're so much more than a coffee shop, we are the place where you are taken care of, all day long. We understand that you might be running from yoga to a meeting in downtown Calgary, that's why our food is healthy and fast.
Put a salad in your bag for later, we'll miss you in the shop but we know you'll be back.
We know you like quality too, that's why we made sure our lunches are delicious too. Carrots? Yes, please. Kale? Alright. Pumpkin seeds? You go girl.
*celeb chef from Queer Eye, and he's Canadian! Love him.