"If a grandma would have a beard,
she would be a grandpa."
    – Not sure the wise woman/man who said this, but Greg says it all the time.
Our cafe management team is made of two individuals who could not be more different but could not agree more on what matters.
Jordan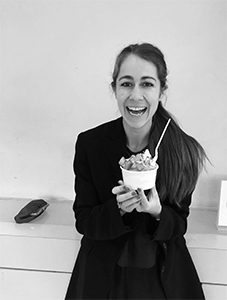 "Join the team at Live is the perfect combination of my personality – a fitness fanatic and a coffee aficionado. Having worked in coffee shops for many years in teens and twenties, I've always appreciated a well-made cup of coffee. Travelling much of the world, I've always found myself at home in coffee shops and am continuously inspired by the perfect blend of exoticism and familiarity that is in every cup. I strive to create an environment that is both intriguing and familiar. One in which everyone is inspired to try something different, doodle in their notebook, pick up a new book or spark a conversation with a stranger. Whether you're catching up with a friend after your morning workout, grabbing a post-spin snack or simply on your way to work. Hopefully, we can make Live YYC an even better place to hang out.
I met one of my best friends by asking her what she was reading in Matchstick in Vancouver's Chinatown!
In 2016 my dream of starting my coffee shop became a reality. With a small group of family and friends, we purchased an existing, yet failing coffee shop in Victoria, BC. I relocated to Victoria to get things going. In less than two months, I'd written an employee handbook, ordered the equipment, designed the layout, created a new menu, rebranded, oversaw a complete renovation, passed all inspections and had a working staff of twenty-five.
Within months we'd exceeded our expectations, but working with family was too much of a strain. We were fortunate enough to see Pour Coffee into a thriving food business in Vancouver. Pour maintains all the original branding and mission statement, it continues to thrive and serve thousands of international and local customers every day.
Like all things in life the toughest challenges are the best growing experiences, in that year I gained a lifetime of experience after ten+ years of working as a barista, and in food service, I found that overseeing operations was a suitable fit for my drive and personality. I am looking forward to putting that experience and knowledge to use again in Calgary, but this time with the intention of settling here, in my hometown, and building a unique coffee/take out food spot for people who, like me, lead busy lives but don't want to compromise their health or their love of food."
Jordan is also the founder of River Wheels, a small bike rental business on the bow river pathways that launched Summer 2018. She loves buying dog clothes on eBay for her adorable Brussels griffon, reading dense continental philosophy and pretending she's a bodybuilder.
Grigoriy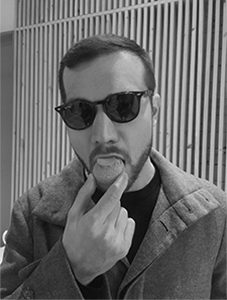 Greg was born and raised in Kazakhstan and moved to Calgary in twenty-thirteen. He's new to yoga cut you're more likely to find him on a spin bike. He's a former aspiring Olympic cyclist for Kazakhstan, not to mention major pastry and Russian tea fan.  He is, like his fiance, is a jack-of-all-trades. In Almaty, he completed his university degrees in English Translation and Web Development. He also worked as a Search Engine Optimizer for a large marketing firm and magazine. For the past eleven years he has run his successful website building, SEO and Digital Marketing Company in Kazakhstan and Canada, where the majority of his client base is small businesses looking to expand their client reach on google; including Inglewood Pizza, a start-up apparel company and Petro Management Group and River Wheels. His most recent endeavours include freelance real estate photography and wedding photography.
Greg is an insanely hard worker, and upon first moving to Canada was an employee of Shopper's Drug Mart, Costco and Bell. Basically, he can do anything, wear many hats and is the most reliable person ever. He's not meant for the 9-5 grind, but instead of spending all his time learning the secrets of futures trading (his passion)  his fiance convinced him to get his hands calloused a bit and join her in the coffee business. Having always dreamed of being his own boss now and being a coffee aficionado himself, Greg is stoked to contribute to the East Village community. He brings a variety of skills to ASAP coffee; strong entrepreneurship, he can do pretty much anything on a computer and most of all people like him. You may not always understand him, but we know you'll like him too.